UPDATES
****This just in! The link to the submission application for the Showcase Showdown is HERE.
Get on board with our 2018 Trash'n Fashion series, where we upcycle unexpected materials into fun, functional, and fashionable outfits! We'll be collecting materials and tools in January- February, working on costumes and clothes in February-March, and planning the finale showcase towards the end April.
Keep your eyes peeled on this page here, which will be updated with helpful info, important dates, fun programs, how to get involved, and submission guidelines for the Trash'n  Fashion showcase in April 2018!!
Wait, what's Trashion? What's up-cycyling?
for more inspiring visual inspiration click here OR click here!     
From Wikipedia:
Trashion (a portmanteau of "trash" and "fashion") is a term for art, jewellery, fashion and objects for the home created from used, thrown-out, found and repurposed elements. The term was first coined in New Zealand in 2004[1] and gained in usage through 2005.[2] Trashion is a subgenre of found art, which is basically using objects that already have some other defined purpose, and turning it into art. In this case, trash is used.
Upcycling, also known as creative reuse, is the process of transforming by-products, waste materials, useless, or unwanted products into new materials or products of better quality or for better environmental value. Upcycling is the opposite of downcycling, which is the other half of the recycling process. Downcycling involves converting materials and products into new materials of lesser quality. Most recycling involves converting or extracting useful materials from a product and creating a different product or material.[1]
---
LET'S MAKE STUFF (click flyer for details!)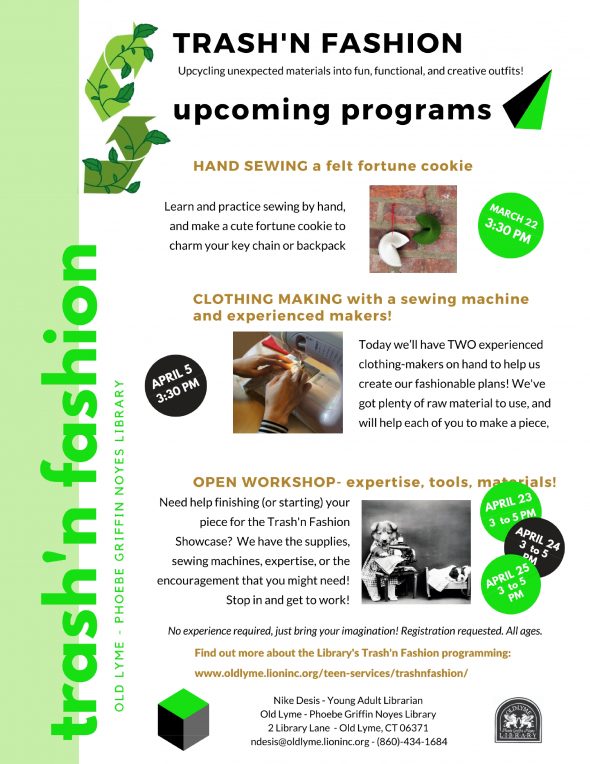 ---