General Health – A fantastic site that allows you to post questions and ask a healthcare professional for answers.
Scarleteen– Inclusive, comprehensive, supportive sexuality and relationships info for teens and emerging adults.
Eating Disorders – Site designed for help and information on Eating Disorders, features blogs.
NIDA for Teens (National Institute of Drug Abuse) Everything you always wanted to know about Drugs and Alcohol a site specifically designed for Teen Education.
Teen Mental Health– Comprehensive site focusing on mental health issues.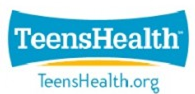 Teen Health – A searchable website that allows you to find information on teen specific health issues and concerns