Project Background & FAQs
We are pleased to share the final conceptual plans for the Library renewal developed by LLB Architects.  The Library hired LLB in early 2017 to help us evaluate the Library's infrastructure and plan for the future.  We are very pleased with the resulting plans and are happy to share them with you, along with answers to some frequently asked questions.
What changes will be made to the building and grounds?
The building changes will occur within the current building footprint. While addressing necessary maintenance needs, we will reallocate space to better meet the needs of today's patrons and those of the future.  The plans include the following improvements:
Updated meeting room with easy-to-use technology
New small conference room for meetings of 6-8 people
Three additional small study / tutor / meeting rooms
Dedicated storytime and craft space within the Children's Room
New Young Adult room
Lighter, more open space, including seating overlooking Lyme street, and more clearly defined collections
New patio overlooking Lyme street and new garden for reading, conversation, and special events
Single service desk for improved customer service
Larger technology space with room for new services
Improved storage for special collections
Nine additional parking spaces, along with more conveniently located handicap parking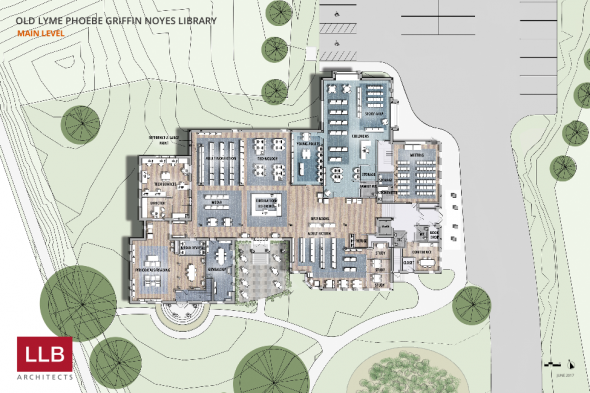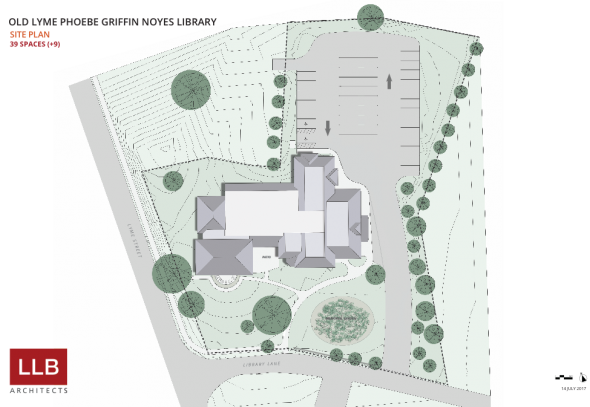 Why is this project necessary?
There are three answers to this question.
The current building was renovated  nearly 25 years ago.  Many of the mechanical systems are nearing the end of their natural life expectancy, including several rooftop HVAC units, 2 boiler pumps, and the lighting fixtures.  The carpet, paint, furnishing, and other finishes have likewise not been updated since 1995.
Significant changes have occurred in our culture and the way people gather information in the past 25 years.  The advent of social media and smartphones, the decreasing cost of technology, and a dramatic increase in publishing and the availability of information have changed people's information needs.  Rather than decreasing dependence on the Library, these changes have resulted in a 70% increase in reference questions since the new building opened in 1996.  During this time the Library has already added services, including one-on-one technology assistance, new e-collections, and more programs (90% increase) attended by even more people (140% increase).
Input from survey and focus groups during long-term planning begun in 2013 identified opportunities to better meet patrons' needs and expectations.  Many of the goals we set in consequence require changes to the Library's space.
How much will it cost?
The total project cost will be $3,050,000.  This cost will include both construction and soft costs, such as furnishings, technology, and shelving.  It also includes a built-in construction contingency fund.  The Library has secured a $1,000,000 construction grant from the Connecticut State Library.  The Library is requesting $1,750,000 from the Town of Old Lyme and has committed to raising the remaining $300,000.
How is town funding decided, and how will it impact me?
The Board of Selectmen voted on May 7 to send approval of $1.75 million for the Library renewal to Town Meeting.  A vote by the Board of Finance to do the same is still pending.  Once it occurs, a Town Meeting will be scheduled, likely for mid-July.  The decision whether to fund the request through note or bonding would be made later.  The following household costs are based on a 15-year note with a conservatively high interest rate:
| | |
| --- | --- |
| Appraised Home Value | FY19/20 Tax Increase |
| $347,200 | $24.00 |
| $540,200 | $38.00 |
| $1,254,400 | $88.00 |
What is the timeline, and how will services be impacted?
The Library plans to remain open without relocating during construction.  The work will be phased with as few disruptions to services as possible.  To this end, we plan to begin work this coming winter, during the Library's quietest time.  We anticipate the following timeline:
June/July 2018:  Secure town funding
Summer 2018:  Bid out final architectural work
Summer/Fall 2018:  Complete final design and bid out construction services
Early 2019:  Begin construction
Summer/Fall 2019:  Renovation complete
Missed the presentations?
We invite you to take a look at the slide show we've presented at the public information meetings.  Interested in learning more?  Contact Library Director Katie Huffman at 860.434.1684 x110 or khuffman@oldlymelibrary.org.
Project Timeline to Date
August 15, 2018: Request for Qualifications for architectural services posted.
July 23, 2018: Old Lyme Town Meeting-the motion to approve $1.75 million for the Library renovation passed 104-30.
June 19, 2018:  Old Lyme Board of Finance passed a motion to send approval of $1.75 million for Library renovation to Town Meeting (date TBD).
June 2018:  Town-wide newsletter mailing communicated the plan details, Q&A, and funding needs (view copy here)
May 7, 2018:  Old Lyme Board of Selectmen passed a motion to send approval of $1.75 million for Library renovation to Town Meeting (date TBD).
April 16, 2018:  Building plans were publicly posted in the Library.
April 15, 2018:  First public information meetings and tour was held at the Library on April 15.  Additional meetings were held on April 30, May 3, June 12, and June 20 (view copy of presentation here).
March 2018:  Library presented a project update during its annual operating budget request at the Old Lyme Board of Finance Meeting.
November 2017:  CT State Library Board announced the award of a $1M construction grant to the
OL-PGN Library.
July 2017:  Library prepared and submitted a grant application to the CT State Library for a $1M construction grant
June 2017:  Feasibility plans completed
April 2017:  Town-wide newsletter mailing announced the project and the hiring of LLB (view copy here)
February 2017:  Hired LLB Architects
October 2016:  Building Committee advertises for architectural feasibility study
March 2016:  Library Board of Trustees established Building Committee
Project History
Beginning in 2013, the OLPGN Library Trustees and Staff embarked on a long-term library renewal project to reevaluate and reimagine library services and plan for the future.  In Phase I, drawing on patron and staff feedback, we developed new mission and vision statements and developed a new strategic plan.
Our MISSION is to inspire lifelong learning and discovery in a welcoming place with exceptional resources, programs and services.
Our VISION is to be the community's vibrant hub for engagement, discovery and creativity.
In Phase II, expected to conclude Fall 2017, we will identify how our facility and use of library space can be redesigned to align with our new vision and to better serve the community.  To help facilitate this process, we have hired Lerner, Ladds, and Bartels (LLB Architects) to develop several alternative conceptual designs of what our renewed library can be.  LLB will be working with us to ensure these designs are informed by ideas, feedback, and inspiration gathered from the library's patrons, staff, trustees, and community stakeholders.
As we develop design options we will be asking many questions.  For example:
Does our current allocation of space reflect our service priorities and needs?
Is there opportunity to increase the amount of space available to the public?
Can a new design allow us to provide new and better services?
Does our use of space promote staff efficiency, productivity, and well-being?
Can a new design make it easier for our patrons to access and explore library materials?
How can we make the space warmer and more inviting to our patrons?
Can we improve our energy efficiency, reduce facility costs, and better ensure the library's long-term sustainability?
How might the design highlight the historic character of the building and further contribute to the beauty and appeal of the Lyme Street district?
In the weeks and months ahead we will continue to share our progress with the community and will offer many and varied ways for community members to join the conversation and help us to imagine the future of the OLPGN Library. Questions?  Please contact Katie Huffman at khuffman@oldlymelibrary.org.
*As progress is made this page will be updated with new information*