Phoebe's Morning Book Chat
The second Thursday of the month at 11:15am.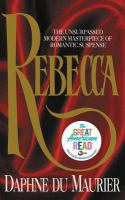 July 11th – Rebecca by Daphne Du Maurier
Image Credit: Syndetics
"''Last night I dreamt I went to Manderly again.'
With these words, the reader is ushered into an isolated gray stone mansion on the windswept Cornish coast, as the second Mrs. Maxim de Winter recalls the chilling events that transpired as she began her new life as the young bride of a husband she barely knew. For in every corner of every room were phantoms of a time dead but not forgotten—a past devotedly preserved by the sinister housekeeper, Mrs. Danvers: a suite immaculate and untouched, clothing laid out and ready to be worn, but not by any of the great house's current occupants. With an eerie presentiment of evil tightening her heart, the second Mrs. de Winter walked in the shadow of her mysterious predecessor, determined to uncover the darkest secrets and shattering truths about Maxim's first wife—the late and hauntingly beautiful Rebecca. "
(Amazon.com)
August 8th – Little Fires Everywhere by Celeste Ng
Image Credit: Syndetics
"In Shaker Heights, a placid, progressive suburb of Cleveland, everything is planned–from the layout of the winding roads, to the colors of the houses, to the successful lives its residents will go on to lead. And no one embodies this spirit more than Elena Richardson, whose guiding principle is playing by the rules. Enter Mia Warren–an enigmatic artist and single mother–who arrives in this idyllic bubble with her teenaged daughter Pearl, and rents a house from the Richardsons. Soon Mia and Pearl become more than tenants: all four Richardson children are drawn to the mother-daughter pair. But Mia carries with her a mysterious past and a disregard for the status quo that threatens to upend this carefully ordered community. When old family friends of the Richardsons attempt to adopt a Chinese-American baby, a custody battle erupts that dramatically divides the town–and puts Mia and Elena on opposing sides. Suspicious of Mia and her motives, Elena is determined to uncover the secrets in Mia's past. But her obsession will come at unexpected and devastating costs. "
(Syndetics.com)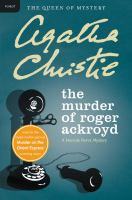 September 12th – The Murder of Roger Ackroyd by Agatha Christie
Image Credit: Syndetics
"Roger Ackroyd knew too much. He knew that the woman he loved had poisoned her brutal first husband. He suspected also that someone had been blackmailing her. Then, tragically, came the news that she had taken her own life with an apparent drug overdose.
However the evening post brought Roger one last fatal scrap of information, but before he could finish reading the letter, he was stabbed to death. Luckily one of Roger's friends and the newest resident to retire to this normally quiet village takes over–none other than Monsieur Hercule Poirot."
(Syndetics.com)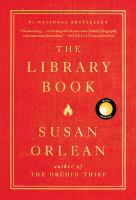 October 10th – The Library Book by Susan Orlean
Image Credit: Syndetics
"On the morning of April 28, 1986, a fire alarm sounded in the Los Angeles Public Library. The fire was disastrous: it reached two thousand degrees and burned for more than seven hours. By the time it was extinguished, it had consumed four hundred thousand books and damaged seven hundred thousand more.
Investigators descended on the scene, but more than thirty years later, the mystery remains: Did someone purposefully set fire to the library–and if so, who?"
(Syndetics.com)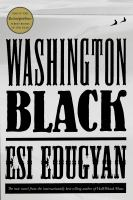 November 14th – Washington Black by Esi Edugyan
Image Credit: Syndetics
"George Washington Black, or "Wash," an eleven-year-old field slave on a Barbados sugar plantation, is terrified to be chosen by his master's brother as his manservant. To his surprise, the eccentric Christopher Wilde turns out to be a naturalist, explorer, inventor, and abolitionist. Soon Wash is initiated into a world where a flying machine can carry a man across the sky, where even a boy born in chains may embrace a life of dignity and meaning–and where two people, separated by an impossible divide, can begin to see each other as human. But when a man is killed and a bounty is placed on Wash's head, Christopher and Wash must abandon everything. What follows is their flight along the eastern coast of America, and, finally, to a remote outpost in the Arctic. What brings Christopher and Wash together will tear them apart, propelling Wash even further across the globe in search of his true self. From the blistering cane fields of the Caribbean to the frozen Far North, from the earliest aquariums of London to the eerie deserts of Morocco, Washington Black tells a story of self-invention and betrayal, of love and redemption, of a world destroyed and made whole again, and asks the question, What is true freedom?"
(Syndetics.com)
December 12th – Save Me the Plums: My Gourmet Memoir by Ruth Reichl
Image Credit: Syndetics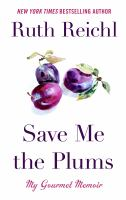 "When Condé Nast offered Ruth Reichl the top position at America's oldest epicurean magazine, she declined. She was a writer, not a manager, and had no inclination to be anyone's boss. Yet Reichl had been reading Gourmet since she was eight; it had inspired her career. How could she say no? This is the story of a former Berkeley hippie entering the corporate world and worrying about losing her soul. It is the story of the moment restaurants became an important part of popular culture, a time when the rise of the farm-to-table movement changed, forever, the way we eat. Readers will meet legendary chefs like David Chang and Eric Ripert, idiosyncratic writers like David Foster Wallace, and a colorful group of editors and art directors who, under Reichl's leadership, transformed stately Gourmet into a cutting-edge publication. This was the golden age of print media–the last spendthrift gasp before the Internet turned the magazine world upside down. Complete with recipes, Save Me the Plums is a personal journey of a woman coming to terms with being in charge and making a mark, following a passion and holding on to her dreams–even when she ends up in a place she never expected to be."
(Syndetics)