Wednesday, April 24 at 6:30pm meet the authors and hear about the Hidden History their research uncovered.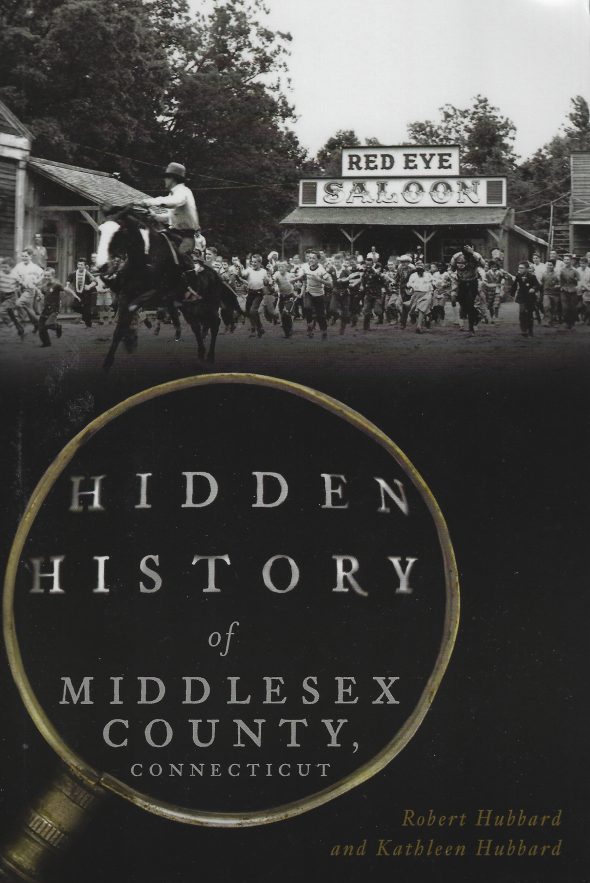 Middlesex County has a rich past. Researchers found dinosaur tracks in Middlefield that date back 200 million years. A young Dr. Seuss spent summers in Clinton; the author of Dr. Dolittle, Hugh Lofting, lived in Killingworth; and Babar the Elephant's author, Jean de Brunhoff, lived in Middletown. A Portland lake has water levels that fluctuate for no apparent reason. Each year Deep River holds the world's largest one-day gathering of fife and drum corps. Constance Baker Motley, the first female African-American federal judge, resided in Chester.
Local authors Robert and Kathleen Hubbard reveal many unforgettable stories in their recently published book. They will present slides and discuss their research, which took them to Old Saybrook, East Haddam and the other 13 cities and towns of Middlesex County. Research involved conversations with over 100 people who were knowledgeable of the historic people, places, and events that are discussed in the book.
Robert Hubbard is a retired professor at Albertus Magnus College in New Haven, Connecticut. Kathleen Hubbard is a retired teacher from the Middletown, Connecticut public school system. Both have lived in Middlesex County towns for 30 years. They are the authors of Legendary Locals of Middletown. In addition, Robert is the author of the recent biography, Major General Israel Putnam, Hero of the American Revolution.
Books available to purchase.